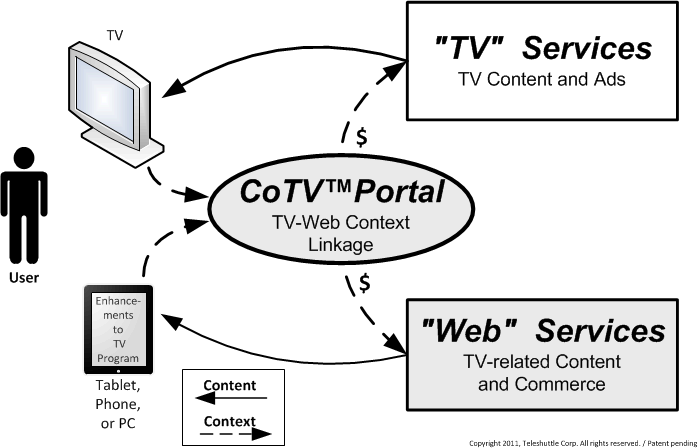 CoTV™ links Web browsing to TV viewing on multiple screens
– cross-screen integration of phones, tablets, and TVs.
CoTV has been licensed to RPX Corporation member companies as of 3/10/15. This includes many many major companies in the TV/video and smartphone/ tablet space. [This CoTV section is not regularly updated -- some updates are here -- see box to right.]
CoTV™ exploits the fact that many users now watch TV on a large screen, while multitasking on an iPad/ tablet, phone, laptop, or other portable "companion" device.
makes it easy to work across multiple screens, screen-shifting video, linking browsing and discovery on one device to presentation on a second device.
It enhances the user experience by coordinating access to cross-device "enhancement" content that makes use of both screens
It creates highly profitable cross-device advertising opportunities that link the TV to direct response on the Web – and that makes ads more relevant and useful to consumers.
Just imagine that Google, Facebook, Twitter, IMDB – or any other Web service or app – knew what you were watching on TV...
All of this can be done in software, without any special new hardware – using ordinary TV and Web content – and without requiring cooperation of TV content or distribution providers (but it is better when they help).

...emerging devices like the iPad/iPhone and Android tablets/phones have put ideal companion devices in tens of millions of hands, AirPlay and Chromecast are enabling screen-shifting, and "Social TV" services are emerging as the killer app that drives mass adoption of coactive services.

See sidebar for notes on recent industry developments
-- details are in CoTV Today and Tomorrow and in recent blog posts.
CoTV™ offers User-Centered integration of TV and Web use
– providing a power assist to cross-device multitasking and simultaneous media use
Coactive "media multitasking" – using multiple devices in coordination – is increasingly enriching how people use media.
Coactive Web services enable the viewer's tablet or phone or PC to serve as a companion device that automatically coordinates Web links with any television viewing – and vice versa.
CoTV™ software enables synchronized, cross-device, multi-screen companion applications – usable for all content sources.

Co-viewing: synchronized program-related information (commentary, news reports, sports statistics, casts, chat, etc.), including ad-related interaction and shopping... with "Social TV" emerging as the likely killer app.
Pre-viewing: richly intelligent and interactive "media concierge" services

–

program guides (EPGs), VOD/IPTV catalogs, and other discovery services, along with DVR scheduling and RSS feed management.
Ubiquity: limited forms of CoTV have been tried with limited success because they work for only a single program or network – always-on CoTV is feasible and essential to achieving audience scale.

CoTV™ services can act like a special Web search engine that is continuously and automatically driven by TV-viewing context.

Coactive TV Web service software can automatically harness the context of whatever a viewer is watching on any TV, to push related Web links and content/services to their second screen.
That adds a power-assist to TV-Web multitasking

–

it directly links use of TV and the Web, to enhance both content and advertising (automatically following the viewer across channels and time-shifting.)
This direct linkage of TV and the Web can be done externally (just as Web search is), independent of TV programmers and distributors.

Coactivity can be very simple or very advanced – as the user desires.

It can work with existing TVs and tablets

/smartphones

/PCs, and with existing TV and Web content and services.

It includes mobile phones + TV

–

as well as coactivity with music, radio, or other audio.
It is based on a core platform software service that enables coordination and flexible viewing across multiple devices and screens, and leverages the power of rich, open browser user interfaces and open Web services. No special hardware is needed.

It is adaptable to a full range of deployed and emerging platforms – wireless PC tablets, laptops, phones, set-top-boxes, media gateways/servers, DVRs, DVDs, WiFi, and more.

It can fully exploit any combination of devices – letting the user decide which screen(s) to work with, and when to context-shift between one-screen and two-screen modes of use, depending on the task. It can also remain unobtrusively in the background.
It provides an enriched platform for emerging "TV Anywhere" services and "Transmedia" content.

Coactive services catalyze an entirely new media business ecology – creating major new, high-margin revenue streams.

New ways to bring social networking and other Web 2.0 services to the world of TV -- this "Social TV" emerged in 2010-11* in a flurry of increasingly prominent offerings, and promises to be the killer app that drives user adoption

New ways to use content/services + new ways to make associations between content/services from any source (Automatic Content Recognition, or ACR)*

New ways to contextually link TV advertising to direct response on the Web + other new cross-device advertising services

New cross-device platform services that enable coactive content and context services and screen-shifting(like AirPlay, Chromecast, and Comcast See It).

All of this is energized by the open network/software/service platform of the Internet.
*See sidebar for notes on recent industry developments
-- details are in CoTV Today and Tomorrow and in recent blog posts.