Coactive TV:
User-centric integration of TV and Web use


...Multitasking and simultaneous media use with a power assist
With CoTV™, the viewer's PC automatically coordinates Web links with any TV viewing, and vice versa. This creates a new compound medium that is natural, simple, and powerful.
CoTV™ exploits the fact that a

g

rowing mass of consumers are already "coactive" – watching TV while on the Internet – and that is increasing as broadband and wireless laptops gain ubiquity) [see FAQ].
CoTV™ Web portals act as a special Web search engine that is continuously and automatically driven by TV-viewing context. CoTV™ coordinates TVs and PCs to work together, to support a multitasking viewer in power-assisted coactivity.

CoTV™ facilitates interaction with Web content that is related to what is on TV.

Examples include getting more information about what is on the TV, whether sports, movies, news, or the like, and participation such as games, contests, etc.
Similar (and most likely to pay the bills), is getting more information about what is being advertised, along with the ability to buy it.
This can include Web-based enhancements provided by the TV program (or ad) producers, but it can optionally include any relevant resources or services on the Web.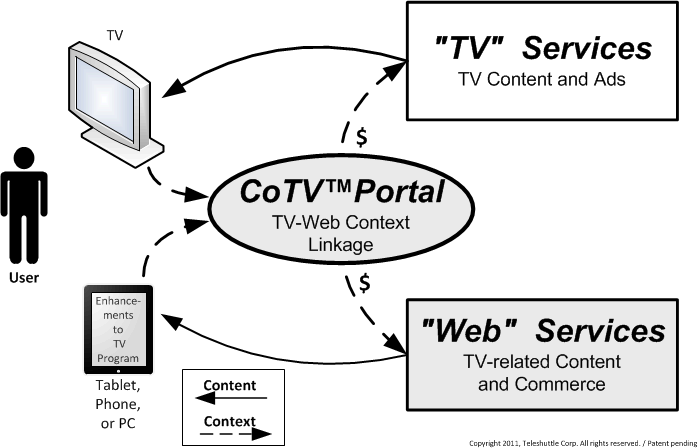 CoTV™ will enable an entire new media business ecology, based on new forms of content and new ways to link TV advertising to direct response on the Web. Just as search engines transformed the Web and supercharged its value, CoTV can do the same to simultaneous Web and TV use.
…for users:
Support viewer multitasking behavior by automatically presenting Web content that is related to the current TV-viewing-context. See Why I want my CoTV™.
Enable full "coactivity" -- direct coordination between a user's channel selections and other commands at their TV with related enhancement content at the PC – and similar coordination back to the TV -- unlike current "two-screen" "Enhanced TV" services.
Achieve user-centric flexibility and ease of use. CoTV can allow users to bookmark links and/or pause TV, to shift back and forth between simultaneous multitasking and intensive use of either TV or the Web -- and advanced version can enable control over which resources appear on which screen.
…for programmers and advertisers/direct marketers:
Enable effective use of deep enhancement content and powerful direct response marketing that seamlessly integrates TV and Web channels into a truly convergent medium -- with one-to-one capability for on-demand and addressable services, and use in synchronous or deferred modes. See Integrating TV and Web Advertising
Bridge all standards for content and services into a national assemblage of interworking technologies, and use PC Web access as a universal default format for enhancement content, without limiting exploitation of one-screen-capable households.
…for cable operators (or IPTV or TelcoTV, etc.):
Create new fee-based services and CoTV portals that can add value to any enhancement content source by linking TV and PC access via the cable head-end -- and provide a business model for win-win collaboration between cable operators and content/enhancement providers and advertisers. These can include subscription fees to users and advertiser fees. See The CoTV Portal for MSOs (...or Satellite).
…for satellite operators:
Use wireless or wired STB connections to a user PC with Internet connectivity to deliver full two-way interactivity and enhancement content in one-screen, two-screen, or any-screen mode. See The CoTV Portal for MSOs (...or Satellite).
…for other video/audio distributors (Internet streaming, IPTV, TelcoTV, DVD, CD, radio, etc.):
…for consumer electronics and PC hardware/software/middleware providers:
Enable any combination of TV and/or PC (or PDA) devices to be used to deliver a rich new coactive TV experience.
Exploit PVRs, Media Center PCs, and media adapters to facilitate direct bi-directional linkage of TV and PC devices. See CoTV™ and the Home Network / Media Center / Gateway.
Enable similar coactivity for other video and/or audio devices and services.
Establish a well-defined, standard demarcation for interchange of sessions and state between devices.
CoTV™ goes far beyond old ideas of "interactive TV" (ITV), while avoiding the pitfalls that have plagued the field.
CoTV™ builds on the wide use and acceptance, of the Web -- and its open standards and infrastructure -- to apply the wealth of content and services already available on the Web, and to facilitate economical addition of CoTV-specific content and services. (Such content and services can be restricted to "walled gardens" if desired.)
CoTV™ makes 2-screen ITV user-friendly and powerful. Unlike current 2-screen "sync-TV" ITV that provides PC/Web enhancements, CoTV™ coordination can be always on, and automatically responsive to individual channel surfing, video-on-demand, and advanced features for personalized viewing. The viewer need not find a specific program's Web site, and does not lose sync whenever the channel or program changes. CoTV™ builds on the limited success of 2-screen ITV -- and on the proliferation of wireless laptops and tablet PCs (and PDAs) -- to make 2nd-screen use ubiquitous, automatic, natural, and powerful. TV-related content is provided to the user – the user need not figure out how to find it.
Advanced versions of CoTV™ can include 1-screen interaction modes as well. Unlike current 1-screen ITV, CoTV™ does not require costly advanced set-top boxes, and is not limited to the simple interactions that are viable with TV screens and remote controls -- but where such platforms are in place, CoTV™ can enable a flexible, user-centric blend of 1-screen and 2-screen interaction modes.